Bavarian Mountain Scenthound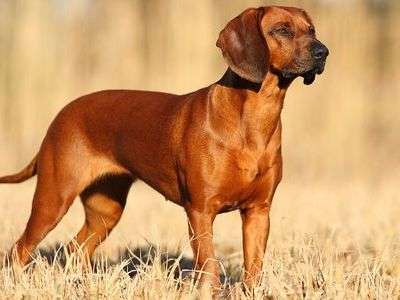 The Bavarian Mountain Scenthound is a slightly middle tall, very moving and muscular dog. Male Bavarian Mountain Scenthounds reach a shoulder hight from 47 up to 52 cm, the female ones are smaller, the reach a hight between 44 - 48 cm. The a little bit long stretched body has got a not too heavy head with hangings which are more than middle long placed at the sides of the head. The neck follows harmoniously the very strong, not too long back. The chest does not have to be too wide with deep, long thorax. Well sloping shaped shoulders go into long upper arms, the front legs are stronger than the back legs, made of strong bones, but never plump and completely straight. The Bavarian Mountain Scenthound's middle long tail reaches until the tarsus. It is worn horizontally or slightly down, on the underside the tail is haired more strongly, mustn't form a brush. The thick, smooth, tight and nearly rough hair shows just a few splendour. The Bavarian Mountain Scenthound is on the head and on the hangings finer, on the belly rougher and longer. The colours of the Bavarian Mountain Scenthound are dark red and cherry red, pale aswell, on the back mostly darker, on the fang and hangings very dark til black.
As younger and smaller version of the Hanoverian Scenthound it does not belong in any case to the younger dog breeds. Since the year 1883 bred on an own standard, the Bavarian Mountain Scenthound always shows an unchanged appearance. From the down to earth Bavarian Bracken, light, used for searching afterwards scented red deer, and the heavy Hanoverian Scenthounds, the huntsmen bred Scenthounds with the best qualities of both of the original races. By strict selection of breed the breed was strengthened. Originally only for the Bavarian Alps area, later the modern type of the Bavarian Mountain Scenthound even pushed away the Hanoverian Scenthound. Especially in the higher mountains the Bavarian Mountain Scenthound is more flexibly.

Inheritance of the Bavarian Mountain Scenthound
Refering to modern hunting possibilities baron Karg-Bebenburg from Bad Reichenhall bred since the year 1870 a much more lighter Scenthound, by crossing the Hanoverian Scenthound with the red "Gebirgsbracken".

Usage of the Bavarian Mountain Scenthound
Specialist for the aftersearch of the sweat track the hurt deer left (blood track) under most difficult circumstances.

Nature and behaviour of the Bavarian Mountain Scenthound
This highly specialised hunting dog is very popular, because the Bavarian Mountain Scenthound is to be educated easily and to be kept pleasantly at home. That is why the Bavarian Mountain Scenthound is ideal for huntsmen, who want to have their dog in their family and alway around. Nevertheless, it is a passionate hunting dog that belongs to the hand of the huntsman, so it can realise its perfect abilities. The short fur is easily to care for. This pet is intelligent, smart and a loyal friend for its owner.