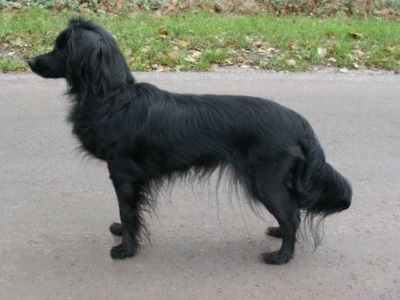 The Markiesje, also known as Hollandse Tulphond, can already be found in pictures from the 17th and 18th century. The "Vereniging voor Liefhebbers van het Markiesje" was founded in the mid-1970s, so that this breed would not be forgotten. The Raad van Beheer honored the engagement with the inclusion in the Dutch breed book and recognition as a Dutch breed.
Appearance

The Markiesje has a medium black, adjoining, shiny coat. White badges are allowed, may not exceed more than 40%. Brown markies are rather undesirable. The ears are carried slightly protruding from the head. In the standard, an ideal size of 37 cm for dogs and 35 cm for bitches is required, with a deviation of 3 cm downwards and 2 cm upwards being tolerated. He becomes six to eight kilograms.


Breed Uses

The Markiesje is a solid, sporty dog ​​that should not be underestimated. So it is suitable for agility, flyball and dogdancing. He is well tolerated in animal and human society.